SOLIS is a leader in Agri-mechanization and the manufacturer of a variety of tractor ranges, which includes compact tractors, utility tractors, and narrow-track farm tractors and so on. Delivering full potential in every kind of field and every task, these affordable tractors for sale are classified as S Series, N Series. Each SOLIS tractor is a dream partner for industrial operations as well as tasks related to agriculture.
SOLIS is known for its zero manufacture defect and affordable agriculture tractors series with steadfast adherence to quality standards. SOLIS ITL (SOLIS) is accredited with international certificates like: ISO 9001:2008 / ISO 140001:2004 / ISO TS 16949 / ISO 14001:2015 / ISO 9001:2015.
Empowering Agriculture in over 135+ countries across the globe, presently ITL (SOLIS) is the third-largest tractor manufacturing company in India and the fifth-largest worldwide. With the world's largest tractor manufacturing plant in Hoshiarpur, India, SOLIS has already enriched the lives of 1.1 Million farmers across the world.

16 – 120 HP
A landscaper's delight in terms of power and efficiency, the extra durable SOLIS tractors compact series is equipped with a complete range of implements for performing equine, agricultural and maintenance tasks with versatility.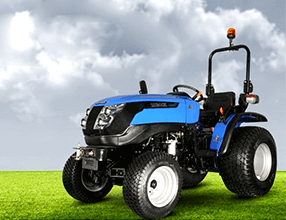 60 – 90 HP
SOLIS narrow track series guarantees maximum performance for composed farming. The synchromesh transmission of this narrow field professional ensures ease of operation for power productivity.